Is The Housing Market Starting To Crash In South Florida [October 2021 Update]
Posted by Andy Mandel on Tuesday, September 28, 2021 at 10:20 AM
By Andy Mandel / September 28, 2021
Comment
Is the housing market starting to crash here in South Florida? Hey, I'm Andy with the Mandel team at Remax. If this is your first time for the channel this is where we go over everything there is to know about eating, living, sleeping, playing, and loving the beautiful South Florida lifestyle. So if that interests you, make sure you subscribe to the channel and tap that bell icon. So you get notified every time we do a new video. We get so many calls, texts, and emails every single day from people moving here to South Florida. And we absolutely love it. So if you have any housing related questions and you're planning a move here in South Florida, make sure you give us a call, shoot us a text, or send us an email. However you want to communicate. We got your back. When moving in South Florida.
Today's video, I want to talk about the housing market in particular. So there's a lot of headlines going on in the news about what's going on in the housing market. And it might be different in different parts of the country, but here specifically in South Florida, I want to show you what's going on with charts, with graphs, with data. So you can really see what I'm seeing, what we're feeling here in this industry. And you can make a decision for yourself.
Housing prices are based on supply and demand. Supply would be the number of homes coming on the market. Now, if you've been listening to anything in the news or reading any articles about the housing market from across the country, I'm sure you're seeing and hearing and reading that there's a limited amount of inventory. There's a lot of articles talking about inventory, starting to increase, and the housing market's starting to slow down. Let's look at this chart and see what inventory levels have been doing here in South Florida. And we're going to look back a couple of years. So real estate based on supply and demand, demand is the number of new listings hitting the market.
Let's look at the chart, in 2019 was the last quote, unquote normal year pre coronavirus. So if we're going to compare it to a normal year, let's look at that. More people start to list their homes starting like March, April, May. That's typically when we see the biggest spike in inventory.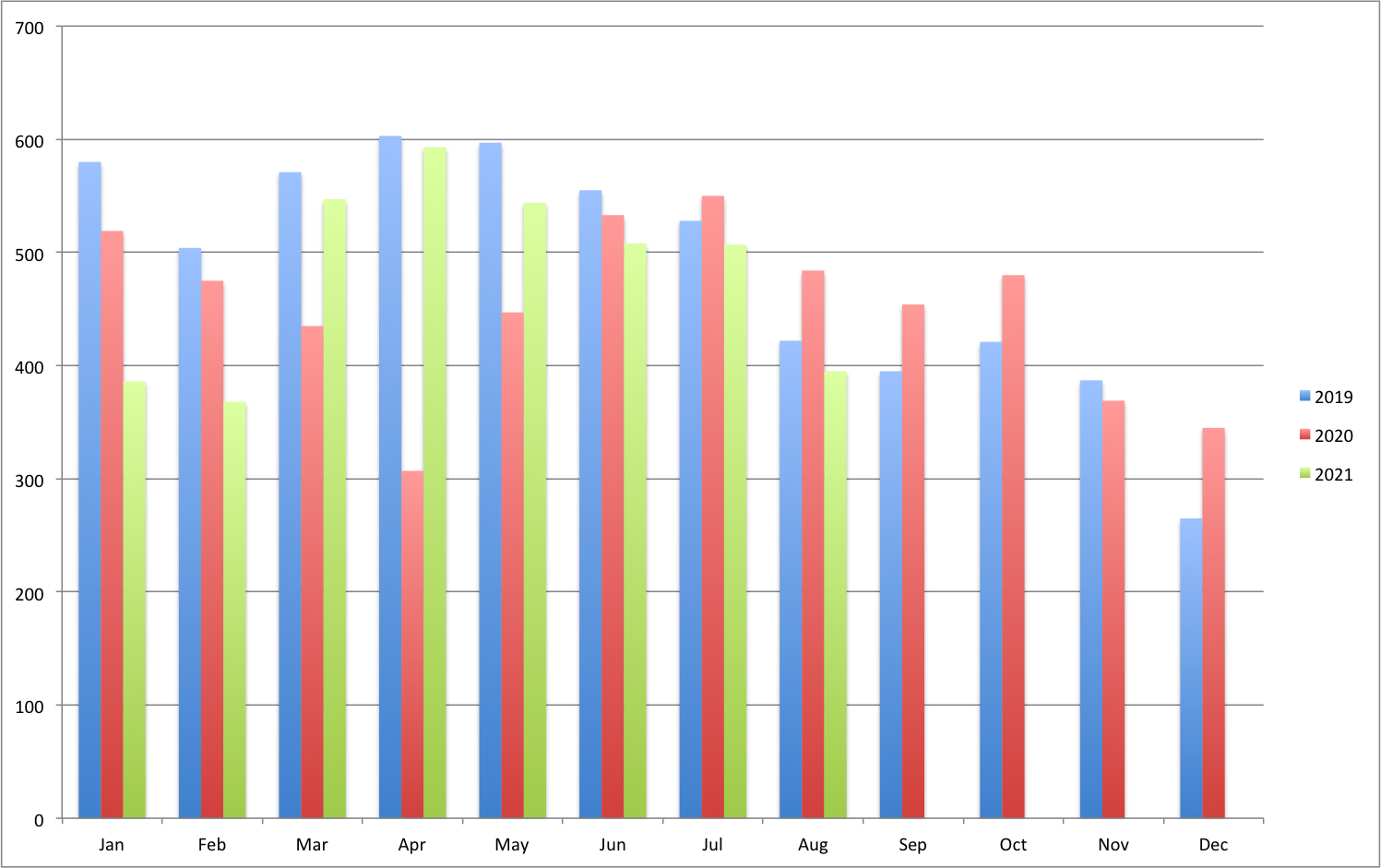 So that's what we saw in 2019, 2020 is obviously going to be different because that's the beginning of the lockdowns of coronavirus stuff. So that's not really the same, but as you can see in 2021, we got close to the number of new listings hitting the market in March, April, May compared to 2019. So we got close to that number, but it's been on the decline ever since, it's been less than 2019 since around May of 2019. So we are still seeing less homes come to the market this year in 2021, than we were in a normal market, maybe compared to 2020, which I don't think anyone would call that a normal year or a normal housing market, that I see a big spike in inventory in the later half of the year, because the housing market was really slowed down, with all the lockdowns and the fear around coronavirus at the beginning of the middle, the beginning and middle of the year. Compared to 2019, we're still seeing fewer homes hit the market this time, compared to that.
The other thing people keep talking about, is the pace of appreciation. And a lot of people think it's going to slow down, or that it is slowing down. My prediction is that it does slow down a little bit, but let's look at what's going on right now.
So let's look at chart number two. Chart number two, shows you the appreciation month over month.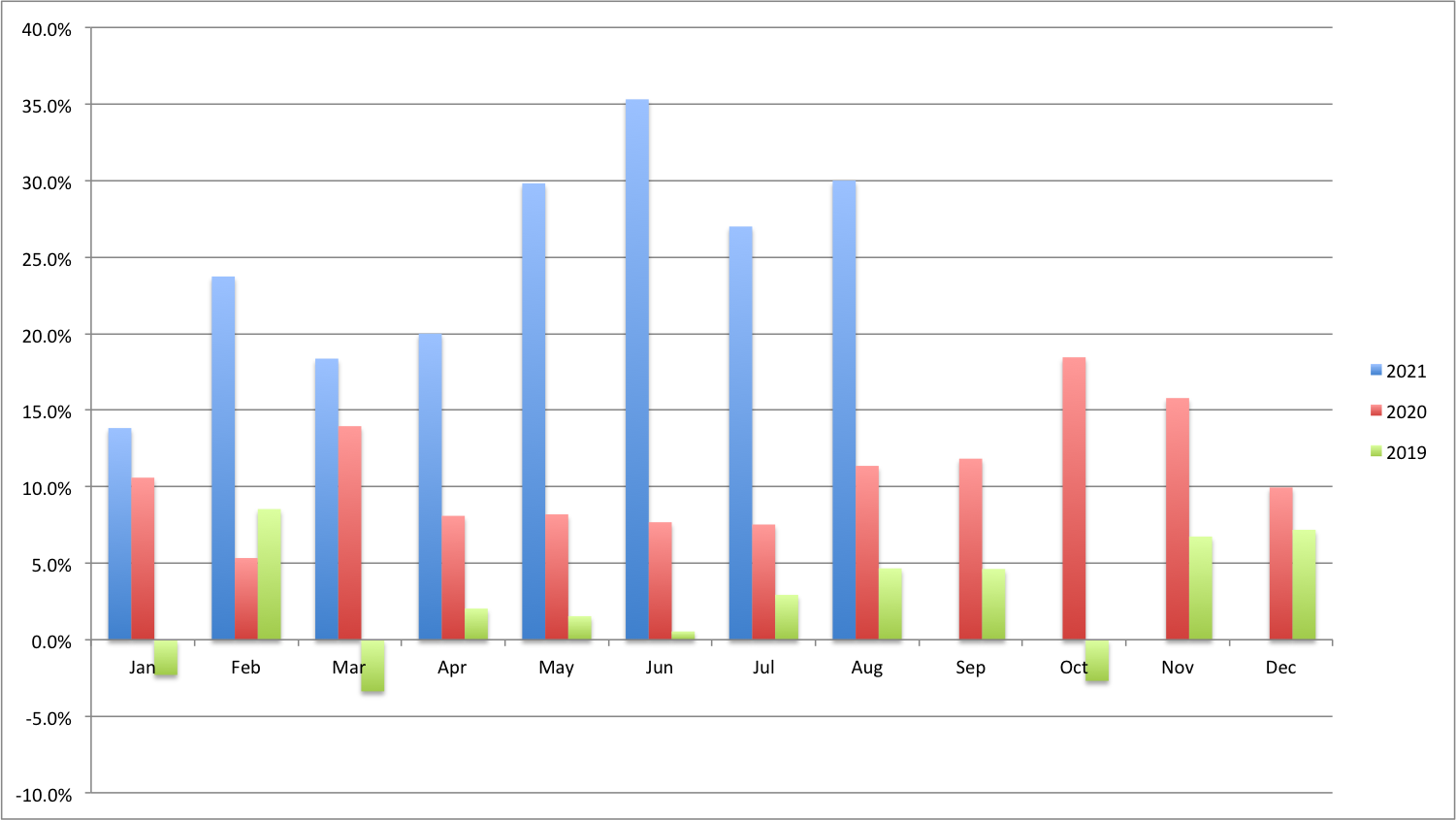 So, you know, November of 2020's appreciation compared to November of 2019. So as you can see, the pace of appreciation is still through the roof. It's still the high housing prices are still going up. They are not slowing down. At least at this point, the market isn't crashing, with what we're seeing in the data, shows inventory is spiking up and appreciation coming down. We're just not seeing that yet. We're expecting to see some more homes hit the market towards the end of the year, for people who are forced to sell after forbearance, but it's not really going to be a huge wave of inventory. We're not seeing anything crazy different. We're not predicting at least. We're not predicting anything like that, to change the dynamics of the housing market that we're seeing right now in 2021. But here's what we are seeing.
Our team, we sell more than a hundred homes a year. We take roughly 50, 60 listings and the rest of them are, you know, buyer sales. Here's what we're seeing from our end, on our listings in January and February, we were getting 25 close to 30 offers on some listings. It was absolute insanity. We're not seeing that right now. We are seeing way fewer offers per listing. So while the price of properties is not coming down, it's beginning to get less competitive, if you're a buyer and you don't have to compete against 26 different offers and be all cash and do all sorts of crazy things, you still have to write a very strong offer. We're still seeing offers above list price, you know, paying above appraised value. We're still seeing all that. You still do have to do that in this market, to write a competitive offer, but you're only up against two or three, maybe four, or five other offers on some houses. It really depends on the house.
On average, what we are seeing personally right now, way fewer number of offers per house, compared to what we were seeing, you know, five, six months ago. So it's a little bit easier for a buyer right now, to get into this market. So if you've put off the home search, and you were thinking, wow, this is crazy. I'm just not going to do this. I'm not going to compete in this market. You might want to revisit it. It might be a little bit less competitive than you last remember. It might be a good chance to come in, and get this home under contract and buy before the end of 2021, because we don't see anything changing this market. We still see prices continuing to go up. We still see limited number of homes for sale. It's still gonna stay competitive. You might as well get in and take advantage of this increase in equity and appreciation in houses.
If you're a seller, what does this mean for you? Well, like I said, we're seeing fewer offers per home. That's a trend that I see continuing. So back in January, February of 2021, you could just literally pick whatever price you want. Buyers are just opening up their wallets, and saying here, take it. I don't care. I want a house. That's not what we're seeing right now. Buyers today are being a lot pickier than what they were six months ago. If the house is not priced correctly, if you just pick, you know, the highest price in the neighborhood and added 25,000 to it, it's not the same as it was earlier in the year. You have a much less likelihood of getting that crazy, ridiculous price. But, we're advising our sellers to do is let's look at the comps, let's price the home exactly where the market tells us it's going to sell. And that is still for us at least, driving prices up, creating a bidding war, creating that frenzy, and getting you the result that you want, albeit with maybe three or four offers compared to 25, but you can still get the good results with good terms.You just gotta be much more realistic. And in line with buyer's expectations, prices have been on this crazy tear up. You know, interest rates have stayed low, so it's still affordable, but taxes are planning on going up.
Insurance costs in South Florida, that's a whole nother topic, we're not even going to get into today, but insurance costs have been going up. You know, as prices go up, the property taxes are going to get reset in the next year after the buyer, buys the house. So there's a lot of other factors that go into the home price besides the, the price of the house. That's making it a little bit less affordable now, than it was a couple months ago, as prices continue to go up and you've got to be priced correctly in order to generate the results that you're looking for. Get that top dollar sale, multiple offers the whole thing. So it's just being strategic about how we price and list the property instead of just picking a random price, and hoping for the best and shooting for the sky. You know, those, those properties, we're starting to see more price reductions, and those sellers are having to come down to reality to match the buyer's expectations right now. So there's a lot of opportunity for buyers. If you've been sitting on the fence, it's time to come back in, look at what's going on in the market. There are good properties out there.
If you're a seller take advantage of this market before it changes dramatically, we're not seeing anything crazy. We're not predicting anything crazy, but we know what today is. We know what's going on in this market right now, and we can still get you a really good price for your house. So hope this video is helpful. If you have any questions about the housing market and how this affects you in your home, if you're thinking about selling or buying, give us a call, or shoot us a text, or send us an email. We got your back when moving to South Florida.