Real Estate for Sale by Boca Raton Zip Code
Boca Raton, Florida is a city located in the southeastern part of the state. It is known for its high-end resorts and as a golfer's paradise. The city also has a rich history, dating back to when it was first settled by European immigrants in 1894.
The city is an exciting and beautiful place to live and work. There is always something going on, especially when it comes to the real estate market. Out of all the homes for sale by Boca Raton Zip Code, residential areas, condos, and rental properties are some of the most popular.
The community is upscale with excellent educational programs and cultural opportunities. Residents can find a variety of real estate for sale by Boca Raton Zip Code with the right amenities to suit any lifestyle.
When considering a move to or around Boca Raton, understanding the various zip codes and what they offer is a great way to ensure you find the perfect home for you and your family.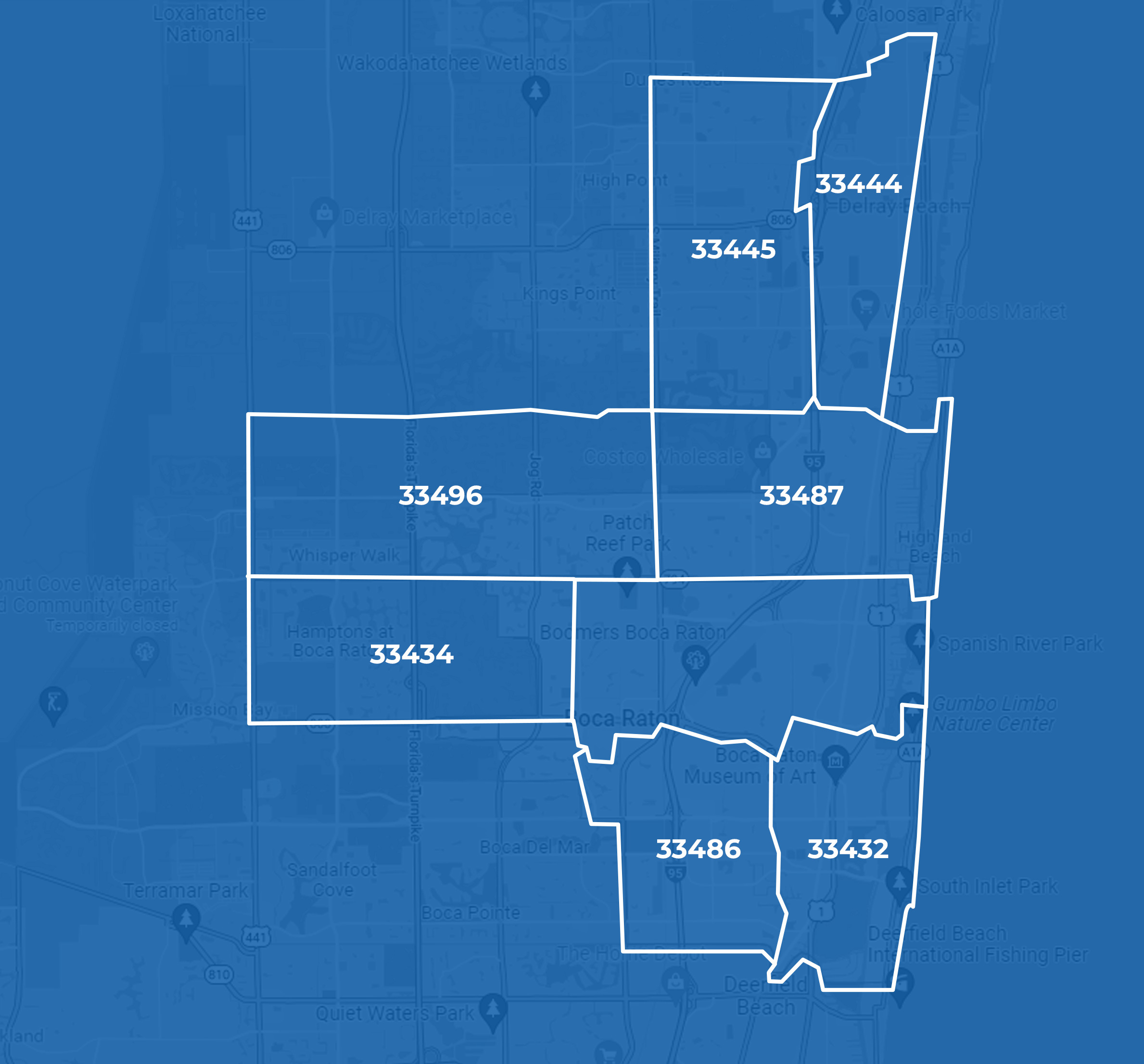 Zip Code in Boca Raton, Florida
There are a number of zip codes in Boca Raton, Florida. These include 33432, 33435, 33434, 33487, and 33496. Each one has its own distinct character that reflects the personality of residents living there.
Real Estate for sale in Boca Raton Zip Code: 33432
The primary zip code of the city of Boca Raton is 33432. This area encompasses most of the city's downtown district as well as the shoreline. The northern border of 33432 is roughly Northwest 20th Street, while the western border is Northwest and Southwest 6th Avenue. The Intercoastal Waterway acts as the southern border and the Atlantic Ocean as the eastern.
With so much available real estate for sale found in zip code 33432, prospective homebuyers have plenty of options to choose from. There are many beachfront estates, condominiums, golf course communities and more dotted throughout 33432 Boca Raton.
Zip code 33432 is also home to the popular Royal Palm Yacht and Country Club, The Boca Raton Golf Club, and many more. Zip code 33432 stretches 5 square miles and is home to over 18,000 residents.
Real Estate for Sale in Boca Raton Zip Code: 33486
Another area worth mentioning is zip code 33486. This part of the city lies within the west section of the city limits. This area of Boca Raton is home to Sugar Sand Park, the portion of Interstate 95 that runs through Boca Raton and a number of exceptional neighborhoods.
Many of the homes for sale in Boca Raton zip code 33486 are set within traditional suburban neighborhoods and are popular for full-time residents and families. Found within 33486 is the well-rated primary school, Addison Mizner Elementary as well as light commercial areas which offer restaurants and shopping options.
According to zipdatamaps.com, Boca Raton zip code 33486 is home to roughly 21,000 residents and encompasses an area of approximately 5 square miles. Found throughout zip code 33486 are a number of popular golf courses, tennis clubs and country clubs.
Real Estate for Sale in Boca Raton Zip Code: 33431
Boca Raton zip code 33431 is another notable area. The most popular neighborhoods include gated communities and high-end real estate opportunities.
Real estate for sale in Boca Raton zip code 33431 includes oceanfront estates with private docks, luxury condos located on the inland waterway as well as both urban and suburban neighborhoods.
Boca Raton, Florida Zip Code 33496 is home to many exceptional neighborhoods. Many of these areas are zoned for single-family homes and have a wide range of amenities that include sidewalks, playgrounds and other features, children are able to walk to schools that are located within these neighborhoods.
Located within Boca Raton zip code 33431 is the Boca Raton Airport, Florida Atlantic University, Lynn University, Spanish River Athletic Park, and Pondhawk Natural Area. The approximate borders of zip code 33431 are Saint Andrews Blvd to the west, Northwest 51st Street/Yamato Road to the north, North Ocean Blvd to the east and Glades Road/Northwest 20th Street to the south.
Making up roughly 8 square miles, Boca Raton zip code 33431 is home to just under 20,000 residents and is set within an excellent school zone. Prospective buyers are drawn to the area for the excellent public schools, beautiful neighborhoods, and convenient location.
Real Estate for Sale in Boca Raton Zip Code: 33487
Real Estate for sale in Boca Raton Zip Code 33487 is set in the city's northern region. Centered in the zip code area is Yamato Scrub Preserve as well as the area known as Highland Beach, which falls along the coast.
The zip code area for 33487 is greatly influenced by its coastal location. This is primarily seen in the number of waterfront properties and luxurious estates that are available for sale. There is a wide variety of real estate opportunities found in zip code 33487 which attract both full-time residents as well as vacation homeowners.
In addition to oceanfront homes, there are also a good number of golf course communities and family-friendly neighborhoods found in 33487. The approximate borders of this zip code area are Yamato Road to the south, Clint Moore Road to the north, the Intracoastal Waterway to the east and Military Trail to the west.
Boca Raton zip code 33487 is home to nearly 17,000 residents and is 7 square miles in size. Along with the northern portion of Boca Raton, there are also portions of both Delray Beach and Highlands Beach which fall within zip code 33487.
Residents living in zip code 33487 can enjoy easy access to Boca Raton, Delray Beach and the Highland Beach area as they find themselves situated in the middle of all three.
Real Estate for Sale in Boca Raton Zip Code: 33496
Homes for sale in zip code 33496 are found within Boca Raton's northwest section. Encompassing communities between North Military Trail to the east and State Road 7 to the west, zip code 33496 is a diverse mix of neighborhoods.
ranging from suburban areas to gated golf course communities, real estate for sale in 33496 offers something for everyone. The approximate borders of zip code 33496 are Intracoastal Waterway to the north, Yamato Road to the south, and as mentioned above North Military Trail to the east and State Road 7 to the west. The area covers about 10 square miles and is home to just over 20,000 residents.
Prospective buyers can find just about every housing style and size imaginable when looking in zip code 33496. From townhomes to villas, and single-family homes to estate properties, there is something for everyone in this northwest Boca Raton zip code.
Boca Raton, Florida Zip Code 33496 is home to many family-friendly neighborhoods which feature mature homes dotted along tree-lined streets. These neighborhoods are ideally situated near major roads, shopping areas and employment centers, as well as many excellent schools.
Boca Raton is an excellent place to purchase real estate due to the number of excellent neighborhoods that are found throughout the city. With a variety of different types of neighborhoods, homebuyers are sure to find the perfect community that meets their needs. Whether looking for a family-friendly suburb in which to raise children or a luxurious waterfront estate to enjoy vacations at, the many zip codes found throughout Boca Raton have something to offer everyone.